Cut your phone costs
with RingCentral Office®
Get the complete cloud communications system for your business.
TRYING TO SELECT A CLOUD COMMUNICATION PROVIDER?
Moving or expanding your communications services to the cloud can seem daunting to any company. Schedule a demo with one of our unified communications experts and we will show you how RingCentral can move your enterprise forward with the latest cloud communications for one low price a month.
RingCentral Platform PDF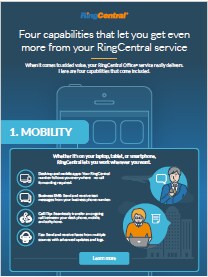 RingCentral Office creates solutions for

Remote employees and multiple office locations

Virtual phone system

Extension dialing

Call transfers

Departments for sales, support,
and more

Department extensions and voicemail

Route calls to desired departments

Music on hold

Employees who travel or work in the field

Call forwarding to any phone

RingOut- make calls with your business number from any phone

Smartphone apps for iPhone® and Androidtm

Cloud fax - send and recieve faxes from your desktop or smartphone

Video conferencing and online meetings

Advanced business features

Voice-mail-to-email and voicemain-to-text

Company greeting and directory

Custom answering rules

Send faxes directly from Microsoft® Office, Dropboxtm, Google Docstm

Business SMS  ̶˗ a RingCentral first

Detect presence accross multiple devices

Multi-level IVR